Image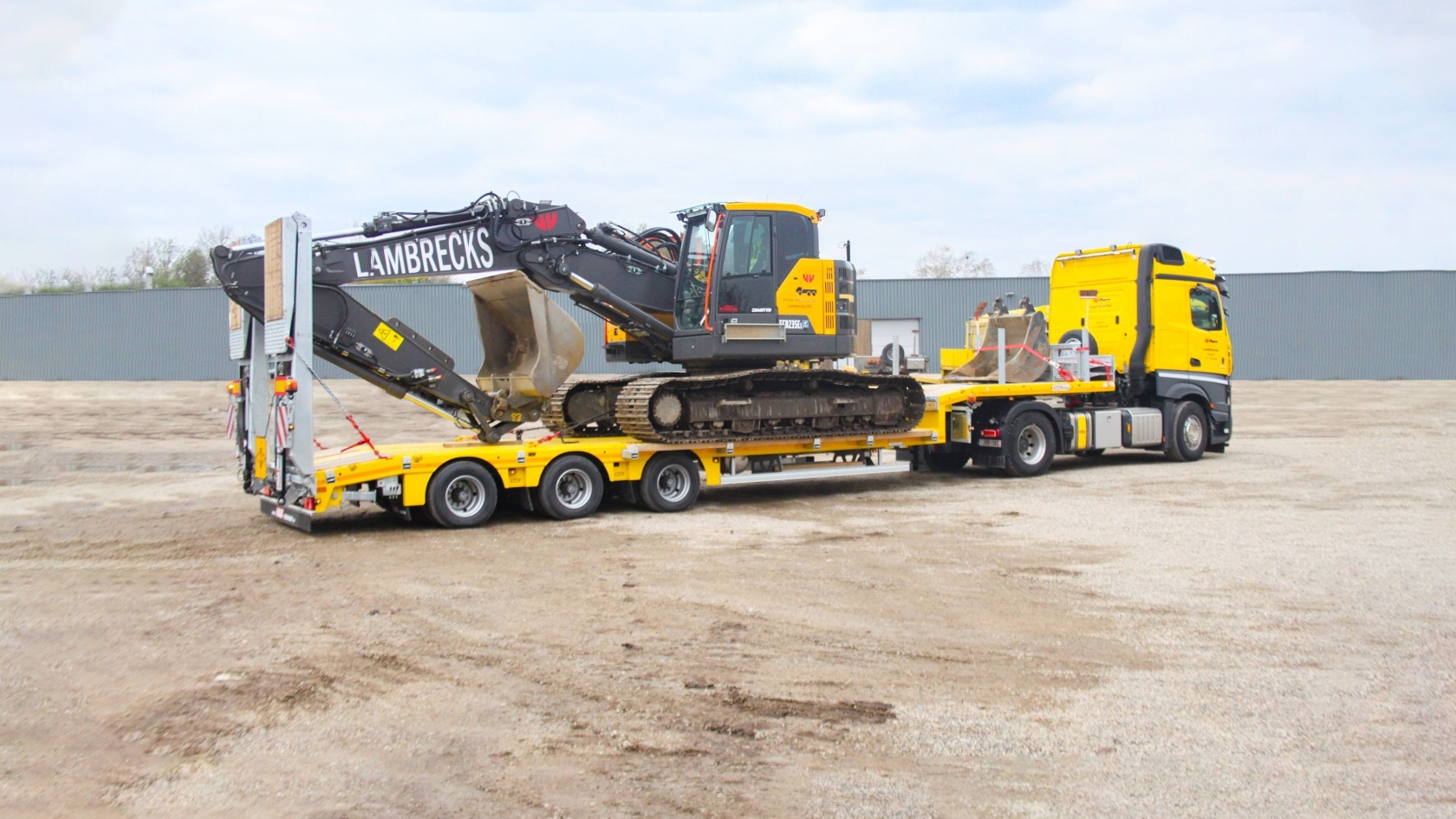 Success story
From site to site
MAX110 semi low loader at Lambrecks
Road construction projects and more
Flexible double ramps for each machine
With a MAX Trailer from site to site
A striking yellow is one of the trademarks of the Belgian company Lambrecks NV.
The new MAX110 semi low loader has recently been standing out in the current fleet. The vehicle plays a key role in the everyday life of the family business. Because it's telescopically extendable.
The rattle of the caterpillar track vehicle announces the arrival of the excavator. Joris Verstappen steers the 27-ton machine towards the waiting semi low loader. The ramps have already been extended sideways and lowered.
Wooden planks inserted in the extensions create a wider loading area. The excavator travels up the double ramps with the help of the grip strips. Driver Joris Verstappen gives the thumbs up – it's all going according to plan. Now it's lashed down and the team is ready to go.
New flexibility
For company manager Gregory Lambrecks, the acquisition of the new MAX110 is another milestone for his company. "It's not our first MAX Trailer," the young entrepreneur says about the trusting partnership of the past few years. "We use a semi low loader from the MAX110 range. But the new one telescopes by an additional 5,800 millimetres, which is something we can really use in our varied daily routine."
With the excavator on the loading platform, Joris Verstappen continues towards Balen. For a quick snapshot they stop briefly along the Albert Canal. A residential area is the final destination, where the excavator is slated for excavation work. Joris Verstappen briefly surveys the location between the single-family houses. Then the unloading position is found.
The hydraulic forced steering of the MAX110 means it's easily manoeuvrable even in reverse mode. It allows Joris Verstappen to steer the combination safely across the construction site to unload the track excavator and get it ready for its upcoming tasks.
Road construction projects and more
The residents take a look at the spectacle. The entire street infrastructure is currently being renewed in their residential block. It's only a short visit for the MAX110. Because tomorrow Lambrecks will be off to another project. The yellow machines quickly move on to new assignments.
Image